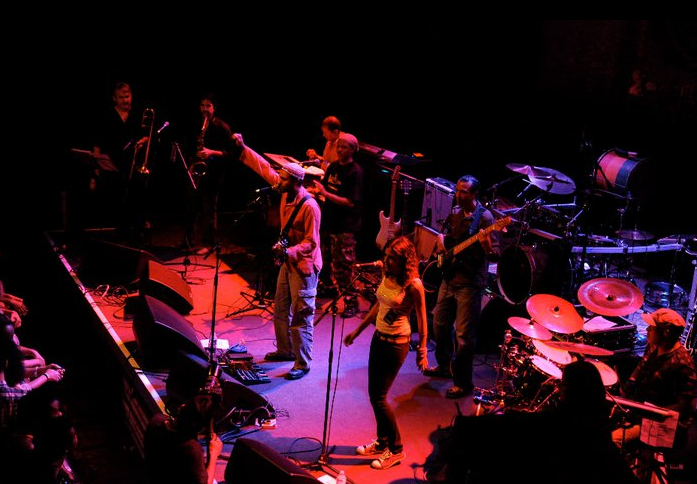 BEAT MAGAZINE writes that "Zedicus roils reggae, jazz, and more in their eponymous debut on the C-Side Entertainment label. Relaxed and relevant, they slowly build to full strength on cuts like "Fill Up," "Rebel Soul," "If This Is Love" and "Standing in the Middle." Sophisticated keyboards, tasty drum and guitar fills, bubbling bass, and plenty of percussion with layered harmonies and strong lead vocals from Zakki Jawad (who also wrote all the songs and produced). The net result is a powerful sound based as much in rock as reggae. Recorded and Kebena Studies in Alexandria, VA the production is crisp and clean. On "Dancehall Rajah" they jump the tempo, throw in some acoustic guitar runs and tip in a full horn section. All these elements coalesce on cuts like "Long Road," "Yellow Rock" and "Circles." Tight.
PERFORMING SONGWRITER 

magazine writes, "It's an Indian raga. It's a Jamaican reggae party. It's an African adventure. Ethiopian-born Zedicus combines elements from all corners of the globe on his debut CD. "Fill Up" kicks things off with a world groove, complete with djembe and tabla drums as Zedicus encourages us to "

Fill up your head with knowledge / Fill up your heart with love." Following that is "Dancehall Rajah" which, as the name implies, combines dub-style reggae with Indian melodies. "Dr. Crazy" features funky jazz chords on electric guitar over a beat that switches from reggae to something that sounds almost like a Brazilian samba. You'll make out influences from Alpha Blondy to Burning Spear, but the truth is Zedicus is blazing a trail all his own. The fusion of globe-spanning music is exhilarating, and his positive lyrics are something the whole world can appreciate." 
AC'S ROOTS REGGAE's

 Regga
 says, "Zedicus is a band based in the USA around leadsinger Zakki Jawad. Jawad was born in Ethiopia and has been active in the music business for over 18 years now. The rest of the band originate from all over the world, which can be heard in the music. This album is great with a lot of global influences. With instruments like the tabla, talking drums and djembes which have been used in several tracks. When I first listened to this album it reminded me of the music of Sting. Reggae gone international with Zedicus. Lovely laid back tunes, steady reggaebeats, good lyrics. 
Definitly a must try album!
"
THE VOICE OF ST. LUCIA ONLINE  says " The band ZEDICUS includes members from Ethiopia and mixed with individuals from India, Italy and Trinidad all with their own unique talents and skills in musicianship and vocals. ZEDICUS entrances its audiences with the fusions of reggae, rock, jazz and ethnic Ethiopian rhythms. The net result is a powerful sound which makes the audience rock, sway, jump and dance. A real gift for the ears and soul as the musical journey is full of sensations." 
Previous events
A night of Reggae and Southern Blues Rock with Zedicus and the Allman Others Band - At Safari DC.
Ragtime, 1345 North Courthouse Rd., Arlington, VA
Come out and enjoy the Raw Bar at Ragtime..in the heart of Arlington!